Adani Azhoni
Designation:
Assistant Professor (on lien)
Professional Experience:
Azhoni joined the Department of Civil Engineering in May 2018 as an Assistant Professor. His earlier research includes investigating the barriers to climate change adaptation for water management from inter-institutional networks perspectives. His research has involved government officials, nongovernmental organisations, development agencies, and other key stakeholder institutions in Himachal Pradesh, Sikkim and Delhi, producing a comprehensive account of the on-the-ground realities of implementing national and international developmental and environmental strategies.
Prior to embarking on his PhD at Cranfield University in the UK, Azhoni worked as a Scientist in the Bureau of Indian Standards (Government of India) for six years. During this period he was incharge of the Quality Assurance Department of the BIS Central Laboratory and looked after some of the key activities related BIS Laboratory Recognition Scheme and undertook a number of Laboratory Quality Audits for accreditation/recognition as per IS/ISO/IEC 17025. He also served as a visiting faculty for BIS National Institute of Training for Standardisation, Noida and conducted a number of training programs for many batches of professionals from both industry and academia, including international training programs.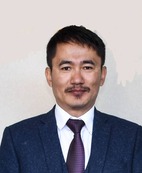 Academic Background
Academic Background:
• Ph.D. (Cranfield University United Kingdom)
• M.Tech. - (Indian Institute of Technology Delhi)
• B.E.- (Saurashtra University)