Sreevalsa Kolathayar
Date of Joining at NITK:
Thursday, November 14, 2019
Professional Experience:
Dr Sreevalsa Kolathayar pursued M.Tech from IIT Kanpur, PhD from Indian Institute of Science (IISc) and served as International Research Staff at UPC BarcelonaTech Spain. Dr Sreevalsa has authored Five books that are now subscribed by worldwide university libraries including MIT and Stanford. He published over 80 research articles. He is Associate Editor of two International Journals and acted as a reviewer for many international journals. He is currently the Secretary Indian chapter of International Association for Coastal Reservoir Research (IACRR), and Executive Committee Member of Indian Society of Earthquake Technology. In 2017, The New Indian Express honoured Dr Sreevalsa with South India's Most Inspiring Young Teachers Award. He is the recipient of ISET DK Paul Research Award from Indian Society of Earthquake Technology in 2018. He has received Marie Curie Action Fellowship from European Union and Professional Recognition Award from Center for Coastal Reservoir Research at University of Wollongong Australia. Dr Sreevalsa represented India at Sino-South Asian countries Disaster Risk Prevention and Reduction Forum at Chengdu, China. He is in the roster of two technical committees of ASCE Geo-Institute. He received "IEI Young Engineers Award" by The Institution of Engineers (India), in recognition of his contributions in the field of Civil Engineering. Recently Dr Sreevalsa was featured by the American Society of Civil Engineers in their Geostrata Magazine.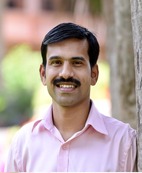 Academic Background
Academic Background:
• Ph.D. (Indian Institute of Science Bangalore), 2013
• M.Tech. - (Indian Institute of Technology Kanpur), 2009
• B.E.- (University of Calicut), 2006