Sridhar G
Designation:
Assistant Professor Grade - II
Date of Joining at NITK:
Monday, December 30, 2019
Professional Experience:
• Total Experience: 6 years 9 months
• Experience at NITK: 2 years 9 months
Dr. Sridhar is currently working as an Assistant Professor in the Department of Civil Engineering at NITK Surathkal. Prior to joining NITK Surathkal in December 2019, he was working as Assistant Professor, in the Department of Civil Engineering at BITS Pilani Dubai Campus. He received his PhD in Civil Engineering from IIT Madras and National University of Singapore and his Masters in Geotechnical Engineering from IIT Madras. His research interests include Experimental Geotechniques, Soft Clay Engineering, Ground Improvement, Physical Modelling (1-g and Centrifuge), Numerical Modelling, Geosynthetics and its applications.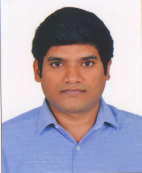 Academic Background
Academic Background:
• Ph.D. (Indian Institute of Technology - Madras & National University of Singapore), 2015
• M.Tech. (Indian Institute of Technology - Madras), 2010
• B.E. (Anna University Chennai), 2008